Come visit us! New Kansas City store now OPEN! New Kansas City store now OPEN!
Come visit us at our new store location at 4708 NW Gateway Ave, Riverside, MO. Our staff will love the opportunity to welcome you and show you around show room filled with hot tubs, pool, saunas and more!
Outdoor Kitchens
Quality work will make it your favorite kitchen

Our years of experience and dedication to quality will make your outdoor kitchen your favorite!

Prices that beat the competition

We work hard to offer prices that beat our competitors while still giving you the highest quality sunrooms and patio enclosures.

Top-notch design team

Our experts help determine the best floor plan and interior decor to make your room your favorite!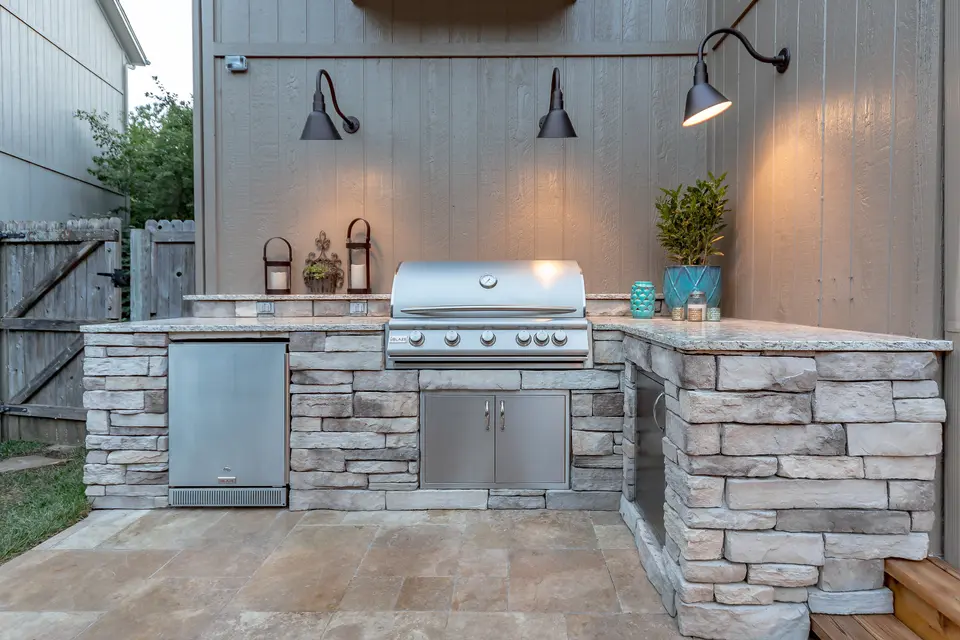 Why
Probuilt

for Outdoor Kitchens
A well-designed and professionally built outdoor kitchen expands your living space giving you the opportunity to cook, eat and entertain guests in the comfort of your own yard. Summer is the time for grilling and backyard BBQ's. An outdoor kitchen will let you enjoy cooking outside long after the summer has ended. Incorporating interior kitchen ideas into your outdoor setting is a great way to add enjoyment, value and versatility to your home.
The most desired outdoor kitchens are as entertaining as a family room, as welcoming as a living room, and as functional and comfortable as an indoor kitchen. An outdoor kitchen can be as simple as a table, grill and a few chairs or as elaborate as a fully outfitted kitchen including comfortable seating and built-in appliances. Although a simple and straight forward DIY outdoor kitchen project can be successfully completed by a homeowner, designing a well-equipped outdoor kitchen is best left to a professional like a landscape designer, patio contractor or concrete contractor. With so many options available, determining the type of kitchen you want can be daunting. Designing the perfect kitchen for your family can take a while to plan and may require obtaining permits from the city. Regardless of whether you do it yourself or hire a pro, we have prepared a few tips to get your outdoor kitchen project started.
Choose resilient materials
Outdoor kitchen surfaces must be able to withstand the elements and severe weather conditions. You should pick durable materials such as stone, stainless steel, tile, stucco or slate. Make sure all hardware and countertop surfaces are suitable for exterior use. If you want to build an outdoor kitchen on an existing deck, you need to be sure that the structure can support the additional weight of the kitchen.
Pay attention to the basics
It is important to plan your outdoor kitchen as you would if it were an interior kitchen. Along with picking the right countertop and grill, plan for organizational and storage necessities including recycling bins, pull out trash and storage space to hold items such as glasses, cleaning supplies and napkins.
Put ingredients within reach
If you like the outdoors, you will definitely enjoy cooking in an outdoor kitchen as it allows you to take advantage of the fresh air and sunshine as well as your homegrown herbs and vegetables. Place a few pots of often-used peppers, tomatoes and herbs near your cooking prep space so that they are within your reach.
Plan for air & light
To have the chance to spend more time enjoying and using your outdoor kitchen you need to make sure that this space will be lit properly. Overhead lights, such as a trio of pendants and recessed cans are the key to making the most out of your eating and grilling areas. If your outdoor kitchen is semi enclosed, ceiling fan will help keep the air moving and will increase the comfort level of your family and guests.
Protect your investments
Before you design your outdoor kitchen space, decide on the types of cooking utilities you want to use, such as a smoking grill or a stand alone range. For example, if you plan to install a smoking grill, a built-in niche will shield it from the snow and rain, extending its life.
Consider mini appliances
The great thing about outdoor kitchens is that you don't have to store enough beverages and food to feed your whole family for a week — only a meal. This will allow you to select small and affordable appliances that don't take much space and use less energy.
Make sure the floor is easy to clean
If you don't want to spend a long time cleaning your outdoor kitchen, you should choose an easy-to-clean floor. Resilient tile is a very good option as it withstands outdoor messes such as garden debris, and cut grass is very easy to sweep up.
Plan electrical outlets
When you design your outdoor kitchen, do not forget about the electricity as it is crucial to power items such as appliances and lights. Placing an outlet near the cooking area will expand the ways you can use the space during the day and night.
Furnish overhead shelter
Extra-sunny days, wind and rain can hinder the use of an outdoor kitchen as well as the enjoyment of your family and friends. The professionals at Probuilt Pool & Patio will make the most of your dining and grilling area by covering your kitchen space. A pergola, full roof, partial roof, or outdoor umbrella are just few of the ideas for an overhead shelter.
Provide storage
Preparing food in an outdoor kitchen can be a challenge if you lack storage to stash ingredients and kitchen utensils. Think about everything you want to keep in your outdoor kitchen to determine what kind of storage you need. If it won't be close to your interior kitchen, make sure to include a cart or cabinets to store plates, utensils, grilling tools and serving pieces to avoid tedious trips between the two kitchens. The easier it is to cook and entertain guests in your outdoor kitchen, the more you'll love inviting friends and family to your home!