Article
The Top 5 Benefits of Owning a Fiberglass Swimming Pool (For those in a hurry, #4 just may seal the deal for you.)
By Probuilt Staff
June 10, 2022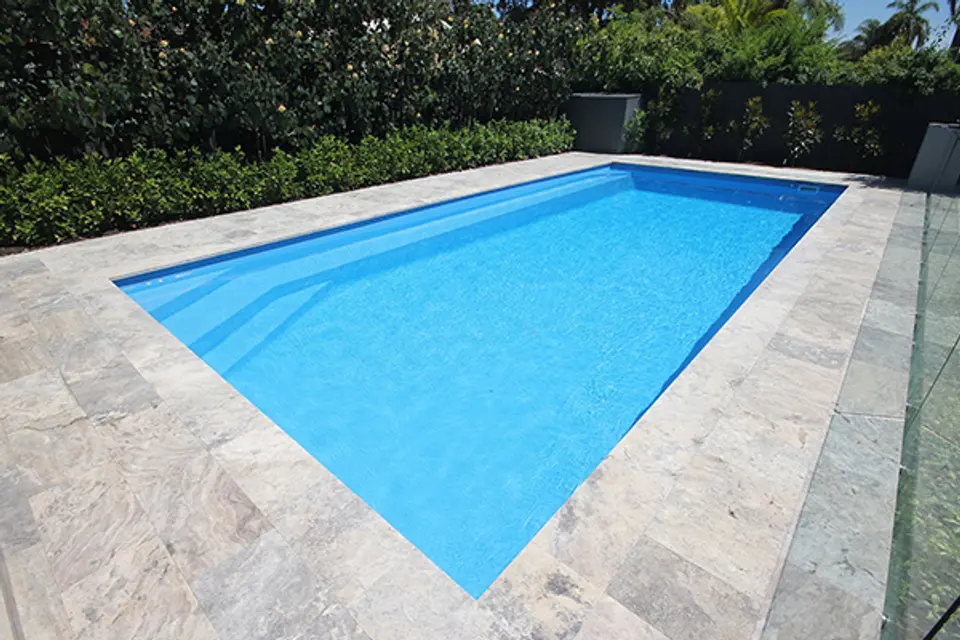 Have you been thinking about getting a backyard swimming pool but aren't exactly sure what kind to get? Should you go with concrete (often referred to as gunite), vinyl liner, or fiberglass? There are options out there, and they all have their pros and cons, but fiberglass swimming pools are gaining in popularity and for good reason. It's not just about the benefits of fiberglass pools; however, it is also about the impact these benefits will have, most notably on your budget.
If you are close to the edge in your decision to buy a pool, we strongly urge you to review this list of benefits that come from fiberglass pool ownership.
The 5 Main Benefits of a Fiberglass Swimming Pool
A fiberglass pool will save on energy costs. This is the one benefit that probably turns the most heads. Typically speaking, a gunite pool and a vinyl liner pool cost more to heat than a fiberglass pool. A fiberglass pool retains heat because the shell insulates the water, thereby reducing the overall loss of heat. This can lead to up to a 30% (or more!) reduction in energy costs over time.

A fiberglass pool is easier to maintain. In a nutshell, things that can harm or damage a gunite or vinyl liner pool will leave a fiberglass pool relatively unscratched. For example, if you mess up the chemical dosage for a gunite or vinyl liner pool, you are potentially looking at paying for some damage repair to the pool. The vinyl liner could fade and the gunite pool could disintegrate if you don't get those chemical doses just right. But a fiberglass pool? No problem. It can stand up to stuff like this.

Let's face it. You want a swimming pool so you can have fun, not to create extra work for yourself. With a fiberglass swimming pool, you don't have to spend a lot of time maintaining it. This is due partly in fact to its durability and smoother, less porous surface. In other words, the fiberglass material is resistant to algae growth. This means you spend less time cleaning your pool and more time enjoying it.

Forget about having to replace a liner or resurface the pool. A fiberglass pool never needs to be resurfaced. When you resurface a gunite pool or replace the liner in a vinyl pool, that costs money and leads to downtime. You are not only out a lot of money, but you can't enjoy your pool during these repair times.

A fiberglass pool can be installed faster. Believe it or not, a fiberglass swimming pool can be installed in as little as one day. Why? Because a fiberglass pool is pre-manufactured and installed in one piece. Plus, while weather can hamper the installation process, it is not as much of a stumbling block for a fiberglass pool as it is for a vinyl liner or a gunite pool. The latter two need certain weather conditions so no damage occurs during the installation process. A fiberglass pool, on the other hand, does not respond as adversely to bad weather conditions and drastic temperature changes.

A fiberglass pool translates to a lower lifetime cost. Because a fiberglass pool requires less maintenance, you will noticeably spend less on products to keep it clean and healthy. Yes, a fiberglass pool can cost a bit more upfront than those other types of pools, but over the long-term, your associated maintenance and repair costs will be far less.
So, if you are ready to dive into creating that ideal backyard sanctuary of which you have always dreamed, then let's roll. There is no better time than the present. We are more than excited to discuss options for your lifestyle, backyard, and budget to make your vision a reality.
When you partner with Probuilt Pool & Patio, you are assured a premier pool and spa installation. We cater to your lifestyle, creating the backyard paradise you desire and deserve. Consider us the poolside company of choice!
Give Probuilt Pool & Patio a call today. You can always find us at the intersection of honesty and quality.