Come visit us! New Kansas City store now OPEN! New Kansas City store now OPEN!
Come visit us at our new store location at 4708 NW Gateway Ave, Riverside, MO. Our staff will love the opportunity to welcome you and show you around show room filled with hot tubs, pool, saunas and more!
Article
How to Keep Frogs (and Other Small Creatures) Out of Your Fiberglass Inground Backyard Pool
By Probuilt Staff
February 27, 2023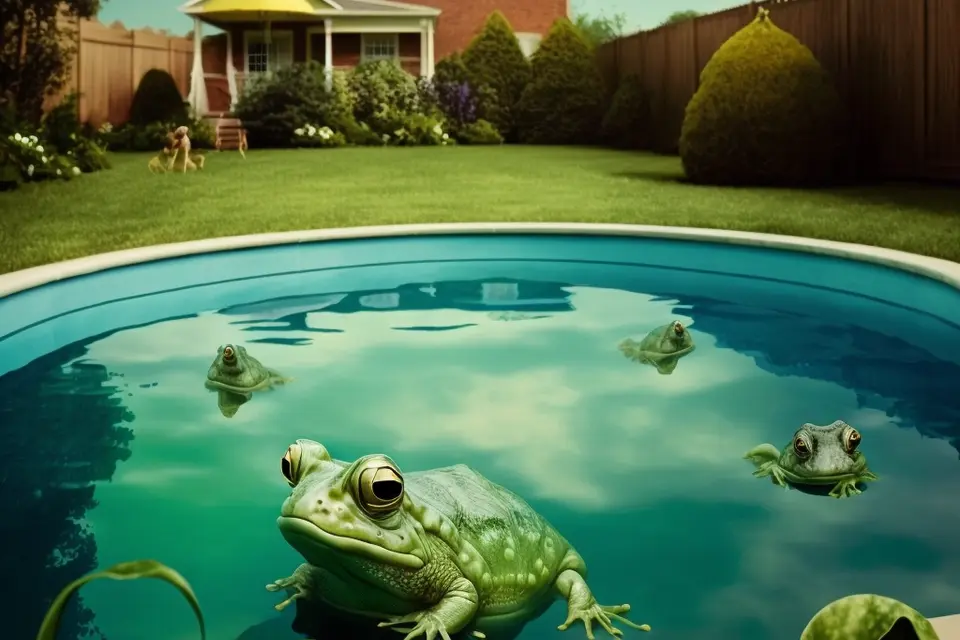 If you own a backyard pool, it's inevitable. You will come across a frog, a turtle, a lizard, a chipmunk, a mouse, or even a mole, either hanging out in your pool, or, sadly, reaching the end of its life in your pool. Just as we are drawn to water, so are animals. Whether you find a dead frog in your skimmer bucket or see a mouse floating in the pool, these things happen. The key is to understand how to keep frogs and other little creatures out of your pool.
Reasons to keep frogs and other wildlife out of your pool.
The health of your pool water can be adversely affected by frogs or other reptiles, as these animals may carry salmonella or any other dangerous types of bacteria. Other types of animals can impart other harmful microorganisms into your pool, such as when they relieve themselves. Gross, right?
Sadly, these small animals may be drawn to jump into your pool, but more than likely won't know how to find their way out. They can become so exhausted just trying to escape, that they can be drawn into your filter system where they will drown.
Any type of decay in your pool is not a good thing, so it is important to minimize the chances of frogs and other tiny creatures out of your pool. Here are some handy tips and suggestions for keeping frogs and other critters away from your pool:
Keep your landscaping away from the perimeter of the pool. Since animals need places to escape from predators, that means some of them may be attracted to your plants, shrubs, and trees. Low-lying foliage can be safe havens for frogs and other critters. As such, be sure to keep your pool landscaping away from the perimeter of the pool and trim any overhanging tree limbs you might have.
Install some barrier fencing. Not all fences are created equal when it comes to deterring small animals. A standard slat fence probably won't keep a frog out. However, a solid fence or one with very small gaps that goes all the way to the ground might keep frogs and the like away from your pool.
When not in use, cover your pool. Most people rely on swimming pool covers to keep dirt, leaves, and other debris out of their pool. However, they are also effective in keeping small animals out of the water. Just make sure the material of your pool cover can stand up to the stress of small claws.
Toss some pool floats into the water. Small animals like frogs are afraid of anything that resembles a predator. If you toss a few pool floats into the water, they can be intimidating to the frogs and therefore keep them out of the pool.
Run the automatic pool cleaner at night. A robotic pool cleaner can be a great critter deterrent. It is large, unfamiliar, and creates motion in the pool that frightens frogs.
Turn off the lights but turn on the water features. Most animals are attracted to lights at night. When not using your pool, turn off its lights. On the flip side, water features such as jets, bubblers, and waterfalls can keep the frogs at bay with their constant motion.
Consider investing in some accessories you can install at the edge of your pool, too.
The Frog Log. For just about $20.00, you can attach this at the edge of the pool. This serves as a ledge on top of the water, allowing frogs and other small creatures to exit the water safely.
The Critter Skimmer. If a frog or other small animal has gotten stuck in your skimmer, this device acts as a spiral staircase of sorts so they can escape from meeting their fate from the suction action of your filter system.
As always, Probuilt Pool & Patio is here to assist you with all of your pool-related needs. As the Midwest's largest inground fiberglass pool builder, we proudly serve homeowners in Kansas City, St, Louis, Omaha, Columbia, and Des Moines.