Article
Fiberglass Backyard Pool Design Trends for 2023
By Probuilt Staff
May 16, 2023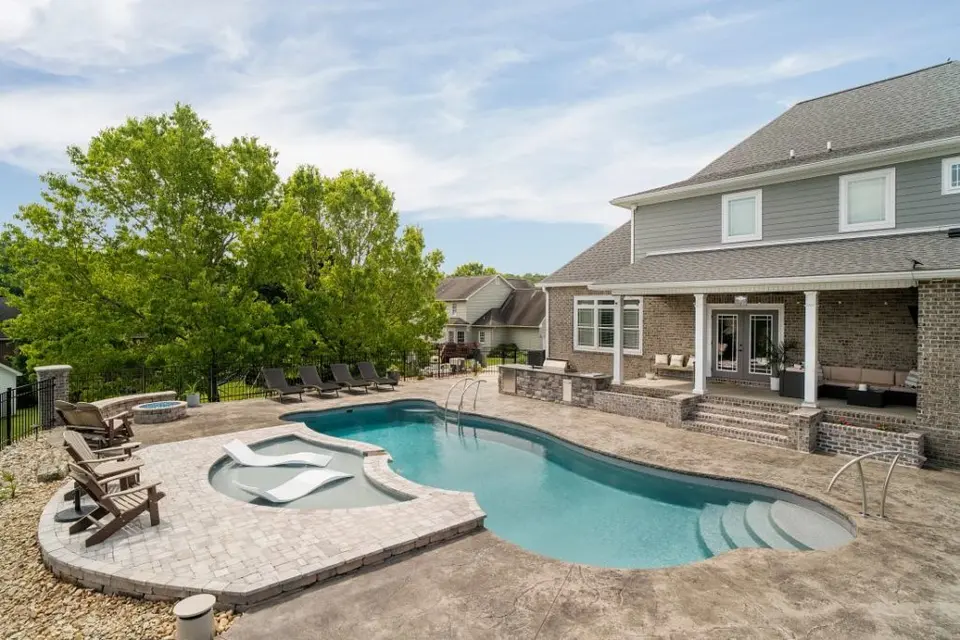 Backyards have evolved tremendously over the years. In fact, at one point swimming pools were just a luxury for the rich and famous. Most of us had to make do with the sprinkler, a slip-and slide, and/or a small inflatable pool that usually wore out well before summer even came to an end.
Today, backyard pools can be found everywhere: on residential properties, with commercial buildings, at hotels, on ships, and even at restaurants. For most pool owners, the pool is more than just a body of water. They want it to be aesthetically pleasing with many elements they can show off to family and friends. When it comes to modern pool design, there are three elements to keep in mind: fire and water features, pool automation and controls, and lounging ledges inside of the pools.
Take a dive with us as we explore some of the top swimming pool design trends and let your imagination soar:
Tanning Shelves (also referred to as sun ledges, Baja ledges, or splash decks)
With a tanning shelf/ledge, swimmers can enjoy a perfect place to cool off on a hot summer's day. Tanning shelves don't require you to fully immerse your body into the water. You can simply play and splash to your heart's content. If you are not a fan of deep water, a tanning shelf is the way to go. Plus, they are great for young kids to enjoy the pool without having to navigate the deep end.
Fire and Water Appointments
If you want to add a dramatic element to your pool, incorporate some water and fire features. With these two elements, you can operate them together or independently. You can also up the aesthetic game of your pool by integrating a fire pit, fireplace, or some dramatic fire bowls. These types of features add a warm and inviting layer of style to your pool design.
Many Exciting Pool Designs
The options for pool designs are seemingly endless today, especially with fiberglass swimming pools. You can choose from a variety of shapes, colors, sizes, and features. This makes it far easier to create a theme for your backyard oasis. Imagine a tropical getaway populated with visually appealing waterfalls, caves, and grottos. Perhaps you just want a single-depth rectangular swimming pool with eye-catching waterfalls in which you can swim laps. If you can dream it, chances are you can swim it!
Technology in the Water
With full automation capabilities for your backyard pool, you can operate the features of your pool remotely. All that is required is a smart device that has network connectivity. You can even have virtual assistants perform certain tasks for you, such as turning on and off pool lights or operating the spa jets. That should make you feel pampered like the rich and famous!
Dark Pool Finishes
While white and blue colored pools are still quite popular, you can take your swimming pool game up a notch with a darker finish. Darker pool finishes definitely add a layer of style to your pool and will greatly complement a lagoon or ocean theme you might envision, for example.
Check out the darker pool colors from San Juan Fiberglass Pools, Aqua Technics Pools, Imagine Poolsand from Aviva Pools, for example. These will surely make your backyard the envy of the neighborhood!
Probuilt Pool & Patio is the Midwest's largest inground fiberglass pool builder. We offer the best in pool designs and professional installations. We listen thoroughly to each of our clients and work tirelessly to bring your vision to life. Contact us today and let's make your backyard paradise dreams come true.