Come visit us! New Kansas City store now OPEN! New Kansas City store now OPEN!
Come visit us at our new store location at 4708 NW Gateway Ave, Riverside, MO. Our staff will love the opportunity to welcome you and show you around show room filled with hot tubs, pool, saunas and more!
Article
9 Essential Winter Pool Care Tips
By Probuilt Staff
December 16, 2022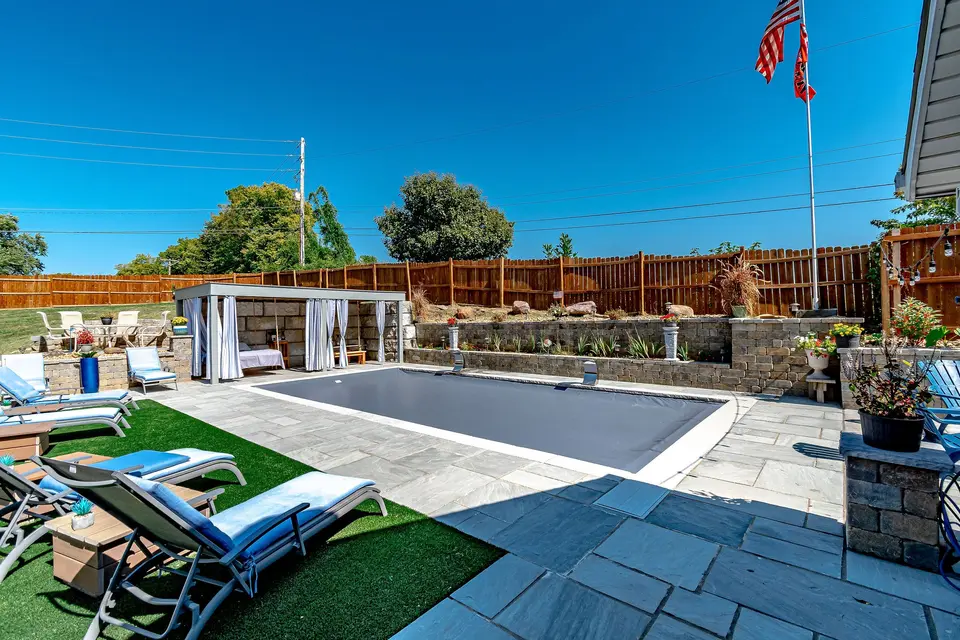 Even though you may have winterized your pool for the season and have turned your attention elsewhere (hot tub or sauna, anyone?), it is still vitally important to keep an eye on your inground swimming pool to make sure it stays healthy throughout the winter. By keeping these simple tips in mind, your backyard pool will be better prepared for opening day next summer.
Even in colder temperatures, proper pool maintenance is important. It can help stave off future problems with algae, buildup, and corrosion.
So, if you want a smooth transition from winter to summer, consider these simple tasks to safeguard your pool this winter:
Don't let the system freeze. As temperatures fall below 32 degrees Fahrenheit, the pipes and systems in your pool will be on the receiving end of the cold weather. As such, it is important to drain the water from the pool heater, filter, and pump. When you remove excess water and let the systems dry out, you keep any accumulated water from expanding and freezing. This could cause the pipes to crack.
Keep the pool cover dry. Be sure to tightly cover the pool. You don't want any dirt and debris sneaking into the pool. Remember to dry out the pool cover, then. If any water accumulates on top of the cover, it can freeze. This same stagnate water will then run into your pool after you take the cover off next summer.
Add algaecide mid-winter. Even though your pool is closed for several months, it is important to add an algaecide mid-winter. This will help cut down additional cleaning of the pool by keeping the unwanted green algae at bay.
Reduce the level of the water. While water evaporates in the summer, it does not in the winter. When your pool water freezes, it can cause cracks in pool tiles. As such, you should reduce the water level about one to six inches below the skimmer. However, do not entirely drain your pool, as that can cause damage. You just want to ensure the water stays below the tiles.
Add some chemicals. Be sure to add some enzymes and chlorine once your pool has been cleaned. The enzymes work to break down any contaminants that may make their way into your pool. The chlorine will help keep the pool water clean until summertime.
Store any pool accessories. There is no need to keep any pool accessories and equipment out in the open air. Be sure to store them in a dry place, away from any sunlight. Exposure to the elements or to the chemicals can cause damage to them.
Be sure to check your pool at routine intervals. Check the water level on a monthly basis. This will alert you to any leaks. If you have an above-ground pool, check the cover on occasion so it does not fall into the pool.
Keep an eye on the weather. The weather will let you know if you should change up your cleaning methods and if you need to reduce or add more chemicals. Further, if you get some unexpected rain, it can dilute the pool water. As such, it is a good idea to add more chemicals into the pool to balance the water.
Open your pool before summer arrives. The longer your pool is closed and covered, algae and bacteria have a greater opportunity to thrive. You don't have to wait until summer to start your summer pool prep work. You can take the pool cover off when the weather is still a bit chilly. This will save on extra cleaning work. Translation? More time to swim when the temperatures warm up and the sun is smiling down at you.
Keeping your outdoor swimming pool healthy and clean throughout the year doesn't have to be difficult. In fact, it is highly important. A backyard pool is a big investment, and you definitely want a significant return on that investment in the long run. By giving your pool the care it needs throughout the year, you will save yourself some cleaning effort before summer comes. Plus, you can prevent your pool from getting damaged due to the lack of usage it will receive.
If you have any pool care, cleaning, maintenance, and/or repair questions, please contact Probuilt Pool & Patio today.We are your backyard paradise experts. We want your inground swimming pool to perform well every day of the year. For all your poolside needs, we are the ones upon whom you can rely.